Whenever you adopt any new habit, it's essential to create a system of support.
Nowadays we have lots of useful online tools and resources and phone apps to surround us. Hopefully, they help us with success and failure when are starting out our new habit. Let's take a glimpse at some of the choices.
Mapmyrun.com
Map My Run is a website and phone app that provides you the ability to draw your running route online. You can save your course, share it, and use it to track your distance. Mapmyrun is owned by Under Armour, and it is free to join.
Journaling can help you clarify your goals.
Their app is fun and addictive to use. You can start with the free app, and when you become a member, you can also use the tools to learn more about running, connect with other runners, and find local running events.
Journaling helps you see your progress as you train
One of the most useful features of Map My Run is the search function. You can search to find other running routes in your community. For example, let's say you want to jog an hour but you're bored with your usual course. With Map My Run you just enter your criteria, and a list of local runs will pop up.
Google Maps Pedometer
Google Pedometer, http://www.mappedometer.com/, uses Google Maps and tracking technology to help you create your running routes. It calculates the mileage as you go so you can find the right distance and route for your needs. You can then save the course and share it via social networking. As always, be careful with these share functions concerning your privacy.
Start journaling your walking and running
You can keep running log by yourself online or offline. You can use Google Docs; it's free. Or you can use notepad.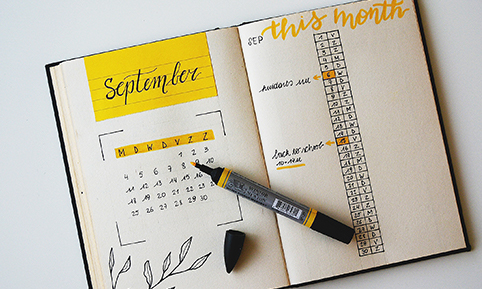 Track your workouts, create a personal calendar and evaluate your progress on your style. You can download a template for Google Docs to get started (learn more from here), and you can buy ready-made notepad for logging.
Journaling  your daily runs helps you track your improvement
Mobile Apps
Most of these running sites and tools also have mobile applications. Another mobile app that's quick and easy to use is RunKeeper and let's not forget the Nike+ Run Club. It's a community of runners, resources, and support tools to help you track your information and stay motivated.
Online Programs
There are also many running programs online to choose from, and it's possible to find helpful training advice online. With online running programs, you still have to motivate yourself to get out there. But the programs give you a basic structure to get you going.
And it doesn't cost that much to buy a running program online.
A running coach is worth it in the long run. A coach will structure a training plan just for you. You then have sessions that fit in with your life. If you get injuries, a coach adapts the program accordingly and prepares you to continue when you can.
The Bottom Line
Find tools, systems, resources, running gear, and people that work for you. As a new runner, you're making significant changes to your life and your support systems matter. The internet may be your best resource as a new runner.